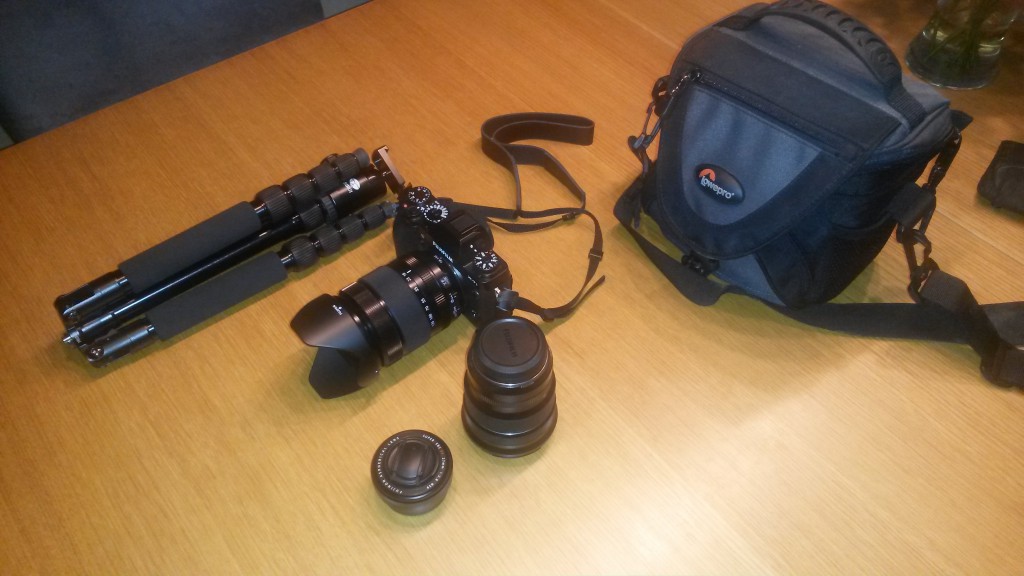 I love travelling for as long as i can remember. Over the past 10 years i have also become more and more involved with photography. Everybody knows these two hobbies go very well together, so for the last years i've been happily carrying around a full blown photography backpack around as carry-on luggage and as daypack for all our hikes my wife and i love to make.
For our newest adventure however (a month to South America, including the multiday W-trek in patagonia), a backpack consisting solely of photographic material was not an option.
So i set out to investigate what my options were.
My current setup was a Canon 60D with  10-20, 17-70, 70-300, 100-400 and 105 macro lenses.
My requirements for this trip was a maximum of 2 lenses, and preferrably a smaller body (and lenses). It had to fit in a bag that i could either put away in my regular backpack or attach on the side of it. Another requirement was a wide angle lens. I love shooting with my 10-20, i also love long exposures, so the wide angle lens would preferrably have to have a filter thread.
First I looked into one of these superzooms like a 18-200 or even 16-300 for my canon, but the quality of the images i saw with these lenses was certainly below what i wanted so i quickly dismissed that.  
For a while I was very serious about buying a micro 4/3 camera with a decent allround zoom, and a wide angle lens. I was certainly covered in the size department. It was considerably smaller, the lenses, especially the panasonic 7-14 W/A was incredible, but it was expensive and didn't have a filter thread. I was still thinking about this as a second system, one i would use while travelling, while using my canon at home and on more photographic centered outings.
Then I got the opportunity to test a Fujifilm X-T10. It immediately felt familiar and very intuitive to use. Ok, admittingly, I've been using a Fuji X10 compact as my second camera for several years now, and most of the manual controls and menu's were roughly the same.
I did some more research, and that's when I started thinking that a Fuji setup might just be able to replace my canon altogether. So after some sleepless nights and heaps of research, I went out and bought an X-T1 with a 18-135 4-5.6 WR. Apart from the fuji system in general I like that this combo is rain proof and pretty rugged. The 18-135 also has one of the best image stabilizing systems around, and that's a big plus for me.
I still needed my wide angle lens. Fuji has a very good 10-24 F4, which i heard great things about, but it was another 1000 €. Luckily i was able to buy it second hand in perfect condition, so my new camera kit was almost complete. The only thing missing now was a small and light tripod for my landscape and long exposures. My carbon Sirui tripod was by normal standards already light and compact, but i still didn't see myself carrying it on a multiday trekking, so i found the even more compact Sirui T-005X. It weighs only 1kg including ballhead and micro arcaswiss plate, and folds up to an incredible 30 cms. It's not holding a 100-400, but for my fuji with the 10-24 it was perfect.
A last addition was the XF27 2.8 pancake lens, which I also found second hand, but in brand new condition. I know, I'm on 3 lenses now, but the pancake barely qualifies as a lens and it makes such a small street combo, I decided to leave my X10 compact at home.
I own the Fuji for a couple of months now, i've done some fun shoots close to home and on some short trips, and i haven't touched my Canon since. I like the results a lot and i've never had so much fun photographing. The big South America trip is a few days away now, and i'm very excited to put my new Fuji gear to the big test.